Recollections of anti-communist fighters and resistants – Miroslav Dvořáček
Miroslav Dvořáček was born in 1928 in Kostelec nad Orlicí the son of a civil servant. There he completed elementary school and started studying at the grammar school. During his studies, he met Miroslav Juppa, who had moved to Kostelec during World War II from Rychnov, where his own grammar school had been closed down, and who was housed with Dvořáček's family. After graduating from grammar school in 1947, they were both enrolled to the LVA (Air Military Academy) in Hradec Králové. Yet their studies did not last long. The communist coup in February 1948 led to renowned purges in the army.






Students of the Air Academy were not spared. Altogether 86 students were expelled soon after 1948. One of them was shot during an escape attempt while crossing the state border, 28 were imprisoned; 20 managed to flee the country. Dvořáček and Juppa were expelled on 21 January 1949 and transferred to a support air regiment in Vysoké Mýto, where they worked as ground personnel. Several weeks later, they received information about a transfer to Pilsen where they were supposed to join the infantry. On Friday February 13, the transfer was ordered. They left the barracks in Vysoké Mýto, but did not reach Pilsen that day. They were aware of their desperate situation and uncertain future, so accordingly several months earlier, they had decided to flee to the West and join the air force there. The transfer to Pilsen opened up a convenient opportunity. First of all, Dvořáček and Juppa set off home – Dvořáček to Kostelec, Juppa to Týniště. They collected civilian clothes and packed essentials. They met the same day in the express train to Prague and removed their uniforms in the toilets. In Prague they bought a compass and a map of the frontier, which helped them to plan the itinerary of their escape across Trojmezí in Šumava. They spent the night under the open sky in Chotkovy sady. The next day, they left Prague from Wilsonovo train station to České Budějovice, then hitch-hiked onwards to Český Krumlov. From there they went by bus to a village called Ovesná and navigated by compass, setting out in the direction of Trojmezí. They crossed the border at about 8 o'clock, spent the night in the forest and continued further into Germany the next morning. Shortly after they met a German frontier guard, who took them to the customs point for body searches and interrogation. Afterwards, they were sent to the refugee camp Leopold barracks in Munich. The camp consisted of 6 buildings of former barracks. Dvořáček and Juppa were interrogated there by the commander in chief in order to reveal the true motives of their escape and to obtain new information. During their questioning, they described their barracks and training, drew maps of airports, stated the amount of aircraft, personnel etc. After one month in Leopold barracks they were transferred to a camp for Czechoslovak refugees in Eichstätt together with 150 other Czechoslovs. The camp was closed down in October 1949 and its inhabitants moved to Hindenburg barracks near Ulm.

In the service of General Moravec

In the middle of November 1949, Dvořáček, Juppa and Josef Hájek, their former classmate from the academy who had reached Ulm several weeks ago, were invited to an inconspicuous villa near the refugee camp. They met general František Moravec there and he made them an offer to cooperate with the "Czechoslovakian intelligence agency supported by Americans." The young pilots could hardly refuse the offer from a former member of the Czechoslovak legion, legendary commander of Czechoslovakian secret services and a war hero. They accepted, provided that general Moravec would guarantee them posts in the air force after their work was completed. In late November they left the refugee camp and went to the villa with the code name Okopanina, where their training for dispatch riding started. In the following 6 weeks they went through theoretical and practical training. In December, shortly before Christmas Day, Dvořáček and Hájek received information about their first mission. They were to cross the border of Czechoslovakia and to go to Prague, where they had their own assignments. Dvořáček was supposed to contact Ing. Václavík, an important employee of Chemapol, to recruit him to provide information about the chemical industry and to arrange a way of relaying messages. On December 27 both men crossed the border and walked to the train station in Domažlice, where their guides left them. Dvořáček and Hájek took the train to Prague, from where they went their separate ways without knowing each others tasks. Hájek continued by train, Dvořáček got off at Smíchov train station from where he walked to Wenceslas Square to call Mr Václavík. Since he had an impression of being followed, he used a tram to go from one part of Prague to another to shake off potential pursuers. His feeling was so strong that he decided to go back to Domažlice. There he met a guide at a pre-arranged spot. They had been waiting for Hájek for two days, but he did not show up. Records from the archive indicate that Hájek was uncovered and arrested during a random police check at Wilsonovo train station, where he had fallen asleep on a bench after his arrival in Prague. Back in Germany, Dvořáček continued his training. At the beginning of March 1950, his second journey to Czechoslovakia was chosen. His task was to try again to make contact with Mr Václavík. This time he was supposed to have the same guide who had led Juppa earlier. On March 13 they left the car near the border village of Rittsteig. They crossed the border shrouded in white cover coats and continued in the direction of Nýrsko. After a two hour walk they reached a secluded dwelling called U Vítků near the village Pocínovice, where the Touš family had been farming for several generations.
The day of arrest

Dvořáček left the dwelling early the next morning. As well as the others, he was accompanied to the train station by Josef Touš, the son of farmer and guide Václav Touš. They entered the train and pretended they did not know each other. In Prague Touš returned back to Pocínovice. Dvořáček got off at Smíchov train station and started completing his task of finding Mr Václavík. On the way from the station he bought 3 hats, 2 pairs of gloves and some other goods for his friends in Germany. In a phone booth he looked for the number of Mr Václavík, but without success. He was going through Prague to and fro, thinking about his next step. On the tram across Mánes bridge he spotted Iva Militká. He got off, joined her and accompanied her to a student dormitory Kolonka. In the early afternoon Dvořáček left Kolonka to look for Mr Václavík. He went to Stalinova Avenue in Vinohrady, where Václavík was supposed to live according to the instructions from Germany. Yet Dvořáček did not find him at the given address. He searched for his name on the nameplates of nearby houses, but without success. The end of the working day was approaching, so Dvořáček decided to wait in front of Chemapol in Panská Street and try to recognize Mr Václavík by the description he had from Germany. But he did not see anyone who fitted the description. He postponed his search to the next day and left to meet Iva Militká in Kolonka, where he was arrested around 7:30 p.m.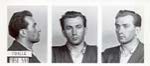 Dvořáček was sentenced in September 1950 for desertion, espionage and treason. The prosecutor called for the death penalty. On September 6 they sentenced him to 22 years imprisonment, a 10,000 crown fine, confiscation of property and stripped him of his rights as a citizen for 10 years. He served most of the time in the Vojna and Bytíz camps near Příbram. He was given a conditional discharge until 1970 after serving 14 years in prison . He and his family left Czechoslovakia and went to Yugoslavia two weeks after the invasion of Warsaw Pact forces in 1968 and never came back. Since that time he has been living in exile. The story of Miroslav Dvořáček was compiled from information gathered by security bodies at the time of the investigation. It is necessary to take this into account and approach the story accordingly.